NEXTGEN –

Devoted to the Next Generation of Church
ANNOUNCEMENTS
The youth leaders would love to include dinner, and are asking if you would you like to serve our youth by providing a meal. This is a great way to get to know the youth! There are multiple ways to help, please click here for more information and find an available date. Contact Kristina Enman at 513-226-3213 with any questions you may have.
Young Adults (18-35) if you're looking to get plugged in, this is a great way to build community within our church! Whether you are a college student, young professional, engaged, or married this is an event for you. We invite you to come and enjoy a delicious meal, fellowship with fellow young adults, and a time of bible study. This months theme is "Still Thankful" and will feature turkey sliders, green bean casserole bites, mac and cheese bites, salad, and pie! And, we'll be studying 1 Thessalonians 5 (emphasis on verse 18).

For more information contact Lee Decker at MarsHillYAC@gmail.com or 470-290-9386.
Nearlyweds/Newlyweds Class
Sunday School Class running November 5th – March, 9am. The Nearlyweds/Newlyweds class is a study of the book, The Meaning of Marriage by Tim Keller. This is a great class for couples who are seriously dating and heading towards engagement, engaged couples, and newly married couples. We will learn more about God's plan for marriage and how to establish your marriage on a Godly foundation. For more information contact Lee Decker at MarsHillYAC@gmail.com or 470-290-9386.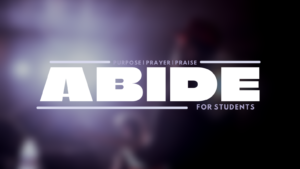 WHAT IS ABIDE?
ABIDE is our ministry for Middle School and High School (6th grade to 8th grade).
Mission Statement: A Ministry dedicated to the service of the Next Generation working to develop people of purpose, prayer, and praise through weekly discipleship and daily intentionality.
ABIDE meets Sunday nights during the school year from 5:00-7:00 in The Chapel.
WHAT IS UNITE?
UNITE is our ministry for Young Adults ages 18-30.
Mission Statement: A community of disciples focused on the advancement of fellowship through the breaking of bread, invitation into personal relationship, and Christ-centered conversation.
UNITE currently meets each month on the third Tuesday starting at 6:30pm. Unite meets in local houses that change month to month so please click here to fill out the contact information page to receive updates.
College Students – Ask about College Virtual Meetups!
WHAT IF I HAVE MORE QUESTIONS?
Contact:
Youth Coordinator –
Ashlee Caraker ashleecaraker@gmail.com, or (336) 392-0355
Contact: UNITE Young Adults – Lee Decker MarsHillYAC@gmail.com or 470-290-9386.
Connect: For general inquiries about Next Generation ministries at MHPC send an email to: marshillnextgeneration@gmail.com
EMAIL SIGN UP
Sign up for emails and stay in the know! Click here and scroll to the email signup on Mars Hill's home page, put in your information and choose Youth Ministries, Unite, or both.